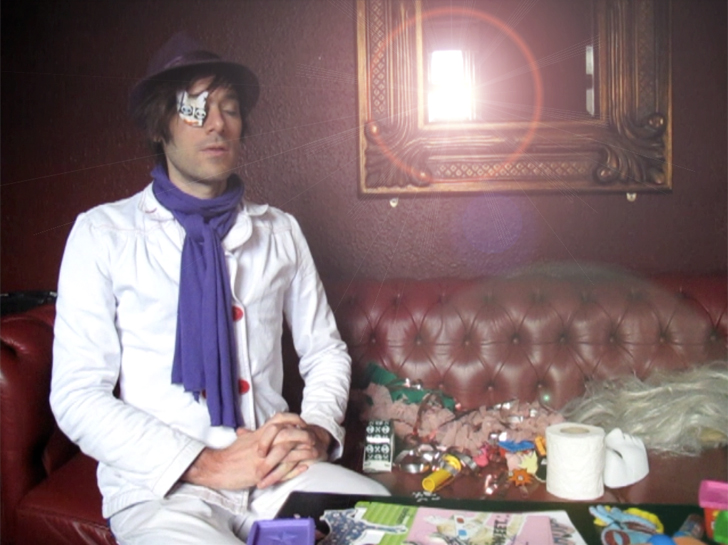 Kevin is channeling the spirit of Dumbledore
With song titles like 'Godly Intersex' and 'Famine Affair' on their new album, an interview with of Montreal was never going to be easy, but somehow we managed to find out Kevin's views on sports coaches' uniforms(?!), how he feels about the 'Harry Potter Dumbledore conspiracy' ("that's fucked-up!") and the fact that, if he was Santa, good kids would get a "non-descript pair of white pumps" and bad kids would simply "go to Siberia". We even got brief listen to the new of Montreal 'ringtone'. Sadly, we were unable to reproduce it here due to 'copyright laws'…
SS: Today I'm feeling _____ because _______
Kevin: Today I'm feeling red, because of a dream I had last night.
SS: First thing you do backstage after a gig?
Kevin: Take off my sweaty pants and look in the mirror to see if I lost any weight.
SS: Sexy. When Skeletal Lamping came out as an LP, paper lantern and button set, you said you only want to produce objects that are functional. What's your most functional object?
Kevin: Toothbrush. It works well and does what I want.
SS: of Montreal is procrastinating. What are you doing?
Kevin: Watching sports. A lot of people don't know I'm a sports fan, but I am. I love watching it and I love doing it.
European football coaches, they can wear what ever they want, you know, they can wear nice looking suits. But in the United States the baseball coaches have to wear uniforms, just like the players. They are never gonna play, they are the coach, but for some reason they are expected to wear the same outfit that the players wear, which I think is pretty cool.
I think it would be good for soccer coaches to wear the shorts and what ever else that the team has to wear – it's good for morale.
SS: If your album wasn't a False Priest but a real one, what would of Montreal tell him at confession?
Kevin: I guess it would be like a Santa Claus sort of situation, like [whether] you've been naughty or nice. And if you've been naughty, then you'll have to go to Siberia. But if you've been nice, then you get to go to Walmart and buy your choice of faded glory denim skirt, or a very inexpensive Chinese manufactured pair of nondescript, white tennis shoes.
But you don't call them tennis shoes, what do you call them? Trainers? Pumps? So you get a nice, inexpensive, nondescript pair of white pumps or trainers. And maybe some snackmates. But it's not gonna taste very good.
SS: What does of Montreal find at the end of the rainbow?
Kevin: We find the 'Black Lion Massacre' (a song from False Priest), which I think takes place in North Korea.
SS: What's the strangest compliment you ever received?
Kevin: "You look like my mother", that was the strangest compliment. And sort of [like] my father, actually. (Picking up a mask with long white hair and a beard) This is a crazy man's mask. (Holding the mask in his hand, facing it at K Ishibashi [violin/guitar/synths] and yelling in a deep, husky voice) "You're to blame!"
K: This is more like (with a husky voice, imitating Dumbledore) "Harry Potter".
Kevin: I don't know that Harry Potter. I've never seen Harry Potter.
K: Really? Well one man, Dumbledore, he's always like (with the same husky voice) "Harry Potter, your mother gave her life, she gave her life for you". The guy is dead, right?
Kevin: Dead in Harry Potter world or in real life?
K: Real life. Actor. He died, that's why they changed Dumbledore in the middle. He is only in two movies and then the actor died. It's just really weird - it's a totally different guy and you're supposed to believe he's the same way.
Kevin: That's fucked-up.
SS: Could you improvise a new ringtone?
Kevin: Yeah. I got one right now: (28 seconds of throat growling) That's actually my ringtone.
K: Copyrighted?
Kevin: Yes.